The Newfoundland and Labrador Games (NL Games) is the largest multi-sport event for youth aged 11 to 18 years old, and involves participants from all regions of the province. BAM Mascots is delighted to have been selected to help bring, Blaze, the event's official mascot, to life.
Hosted in Deer Lake earlier this year, the NL Games is a weeklong multi-sport competition that is held every two years by communities within Newfoundland and Labrador - alternating between Winter Games and Summer Games.
This year it was the Winter Games, with more than 1,300 athletes taking part in sports such as cross country skiing, gymnastics, hockey, skating, basketball and much more.
As the official custom mascot of the Newfoundland and Labrador Games, Blaze embodies everything that the NL Games stand for. Blaze represents the event's overall spirit of sportsmanship and encourages friendly competition among the athletes.
Blaze's design is a spin on the famous Olympic Flame, but if you look more closely, you'll notice the shape of Newfoundland and Labrador within the flames. Just like the NL Games, Blaze was created to generate participation in sport and to foster sportsmanship between athletes.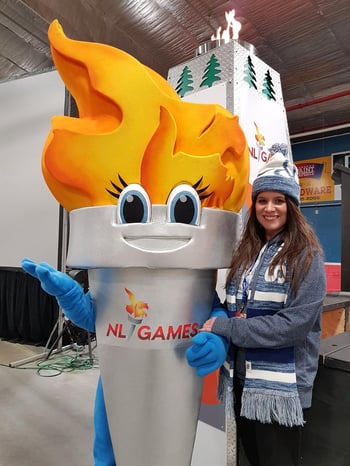 The Games aim to reinforce messages and practices around healthy eating, as well as foster the development of athletic skill amongst young people within the province.
Athletes at the NL Games compete for three awards:
The Premier's Cup - Awarded to the region that accumulates the highest number of points at the Newfoundland and Labrador Games.
The Sport Newfoundland and Labrador Trophy - Presented to the region showing the most improvement from one seasonal Newfoundland and Labrador Games to the next.
The Lieutenant Governor's Award - Awarded to the region who best demonstrates the overall spirit of friendly competition and sportsmanship – the essence of the Newfoundland and Labrador Games.
Many national and international sporting events have custom mascots created as part of their marketing, branding and public relations strategy. The presence of a unique character at official events can bring high entertainment value to the audience, as well as help provide a friendlier atmosphere for athletes.
Blaze helped to pump up the crowd during the course of the NL Winter Games, and also posed with athletes for photographs.
Mascots like Blaze offer various benefits for sporting events, as well as sports teams. They provide entertainment for fans, make sporting environments more family-friendly, increase media exposure, help generate more loyal and engaged fans, as well as open up doors for increased revenue.
BAM Mascots designs high-quality, durable, professional mascot costumes for all types of sports team and events, from amateur to professional - and many other types of companies and organizations.
Our 25 years in custom mascot design, as well as our expertise in concept to creation, gives our team the creative edge that allows us to bring your mascot to life.
Want to learn more about our custom mascot creations? Contact BAM Mascots today.