BAM Mascots is pleased to announce that one of our recently designed mascots, ESOP Man, has made his official debut for Garney Construction.
The custom mascot, which was designed specifically to represent the integrity and excellence of Garney Construction's employee-owners, was introduced at the company's Field Managers Workshop in Kansas City, Missouri.
With around 550 employee-owners from across the US flown in for the weekend event, many staff members, including the company's CEO and President, spoke about the state of the company and its innovative training, retirement planning and social events.
What created the most buzz, however, was ESOP man. The official Garney Construction mascot made his debut in the final surprise of the event, which was topped off with selfies between ESOP Man and the company's employee-owners.
Who are Garney Construction?
Garney Construction is one of the leading providers of water and wastewater piping systems in the US. The organization's story began in 1961, when Charles Garney left his father's Kansas City plumbing business to start his own pipeline and utility construction company.
Over the next two decades, Garney used his knowledge to expand into related construction activities and other regions around the US. It wasn't long before Garney was known as one of the country's leading contractors in water and wastewater systems.
The company unique employee-owner structure, in which the organization is 100% employee owned, says a lot about the business integrity and excellence in service that Charles Garney first instilled in the brand more than half a century ago.
Why did Garney Construction introduce ESOP Man?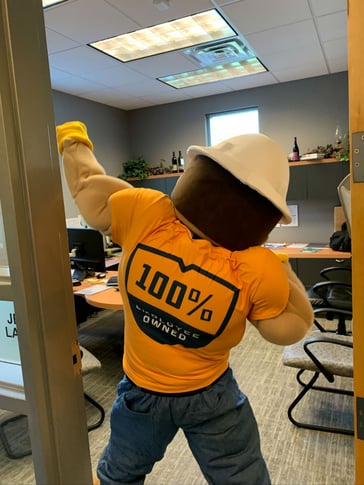 ESOP Man has been introduced to perfectly represent Garney Construction's employees and the amazing work they do for the company. In fact, ESOP stands for employee stock ownership plan - highlighting the company's unique employee structure and just how valued staff members are within the organization.
Making his first appearance on behalf of the company recently, ESOP Man joined with Garney Construction's Kansas City corporate office volunteering with Sleep in Heavenly Peace to make bunk beds for children who do not have a bed to sleep on.
Want to create your very own company mascot?
Mascot marketing is growing in popularity and it's clear to see why. Mascots can influence buying decisions, improve brand engagement, promote your company's story, drive sales and much more.
Are you considering creating your very own brand mascot? You've come to the right place.
With over 35 years' experience in creating high-quality, durable mascot costumes for all types of organizations, BAM Mascots can partner with you to create the new face of your brand - whether you are a sports club, consumer-facing company, charity organization or trade business.
Get in touch with us today and we would be more than happy to provide you with more information on how exactly our unique and professionally-designed mascots can revolutionize your company's marketing efforts.