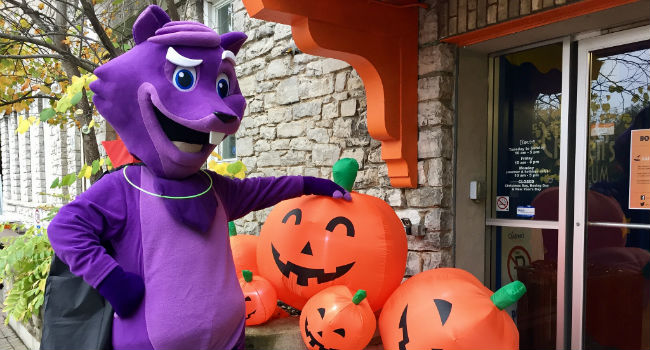 Mascots are great for marketing and promoting your business, but there's one thing they really excel at - fundraising!
Custom Mascots help to create memories. They give your brand personality, they add an element of fun and excitement to your fundraising event, and they allow you to build a connection with your event attendees. A mascot is the ideal marketing tool for local businesses when they engage in community events.
This is certainly how one mascot has helped an Ontario-based real estate company. In fact, Team Purple Squirrel has the same name as their Purple Squirrel mascot.
The term 'purple squirrel' was originally coined by the recruiting industry to describe a very rare and perfect candidate - a phrase Team Purple Squirrel adopted to describe the company's employees and how it operates. The Purple Squirrel represents the realty firm's community engagement and client philosophies.
The Purple Squirrel mascot brings the brand to life. Chris Mavrikkou, Real Estate Broker with Team Purple Squirrel, told Venture Cover magazine that he has incorporated "FUNdraising" into the business. The Purple Squirrel mascot has significantly helped to raise awareness and heighten the level of excitement around each event.
People attending the fundraising events are able to to take a selfie with the mascot, and Team Purple Squirrel then donates a predetermined amount of money to the cause for each selfie taken.
Below we take a look at some of the recent fundraising events where the Purple Squirrel has helped build community engagement.
Bud Garden "Open Skate"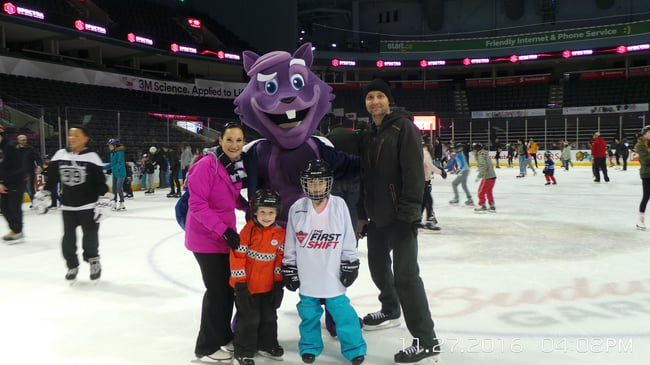 The Purple Squirrel attended the unforgettable skating experience at Bud Gardens where the mascot helped raise both toy and cash donations for The Children's Aid Society. The toys and money raised were donated to less-fortunate children over the Christmas period.
Parkinson's Charity Car Wash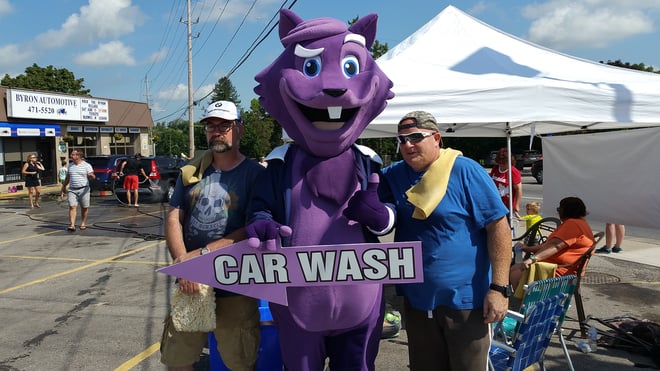 Lending a helping hand to the Parkinson's Car Wash at Byron Automotive, the Purple Squirrel helped to raise plenty of money for a fantastic cause.
London Knights Charity Golf Tournament
While his putting skills may have been below par, the Purple Squirrel certainly scored with London's local hockey team, the London Knights, at their annual charity golf tournament. The Successful event held at Fire Rock Golf Club helped raise money for Hope's Garden.
The Arthritis Society "Jingle Run"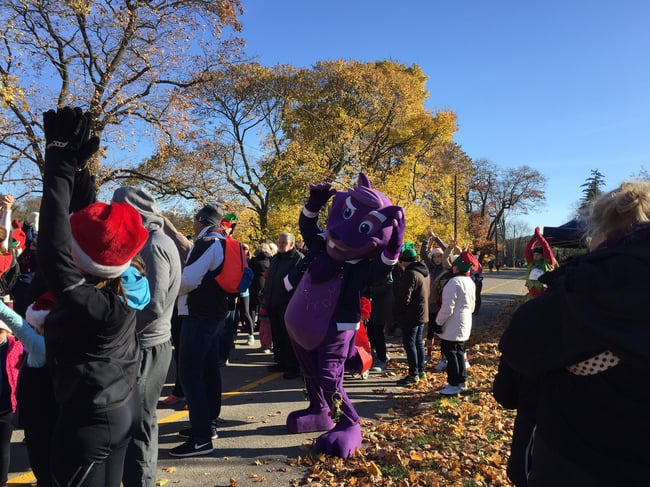 The run was organized to help raise funds for the Arthritis society. Extra excitement was added by the appearance of the Purple Squirrel who participated in some yoga moves with those in attendance.
Just like the Purple Squirrel, custom mascots can provide a memorable experience at fundraisers for those who cross their path. Not only will a mascot improve your brand presence and help audiences to remember you, but they will also help drive donations at your fundraising and community events. It's a win-win.
Custom mascots - just like the Purple Squirrel and Team Purple Squirrel - really stand out from the crowd.
Contact BAM Mascots today to find out how a custom mascot can help garner additional buzz for your fundraising and community events.